Welcome to Food and Nutrition Services!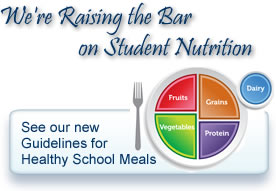 Our Mission is to help students achieve academic excellence by balancing good nutrition with physical fitness. To provide low cost, nutritious, well-balanced, and good-tasting meals so that all students will be able to learn at their best.
Bakersfield City School District Food Services manages Kern County's largest Child Nutrition Program, overseeing 22,500 lunches and 11,000 breakfasts per day plus after school snacks and summer meals.
_________________________________________________________________
2021 2022 Confidential Family Survey
https://bcsd.rocketscanapps.com
Our self-supporting program has been nationally recognized by the United States Dept. of Agriculture (USDA). We are the recipient of the
USDA Outstanding School Lunch Program
USDA Outstanding Summer Food Service Program Award
USDA Best Practices Award for expanding the breakfast program
USDA Best Practices Award for environmentally friendly cafeteria practices
We are a creative ensemble of talented professionals who strive to think "out of the box."
Now We're Cooking!
Click the button to the right to see the excitement at our recent "Now We're Cooking" barbecue event that was held the families of the Bakersfield School District. All of our school Wellness and Community health partners joined us in the festivities.
We showcased healthy foods and fitness tips, and our community partnership shared their services, handouts and information. Best of all, we served up a lot of good food and fun for all!


The Bakersfield City School District's Nutrition Services team is proud to announce being awarded the highest honor in school nutrition with the Gold Medals of Distinction to Harris, Hort, Frank West and Horace Mann Elementary Schools. Congratulations to Nutrition Services Department! Click to learn more...
_______________________________________________________________________
Our innovative and successful nutrition education activities were showcased at the 2002 State Child Nutrition Conference Best Practices Session presented by the California Nutrition Services Division. We support learning by promoting healthy habits for lifelong nutrition and fitness practices.
Click on the Contact Us! We encourage student, staff, and parent involvement in the menu planning process. Share your suggestions, comments, or questions!
Meals, foods and beverages sold or served at schools meet states and federal requirements which are based on the USDA Dietary Guidelines. We provide students with access to a variety of affordable and appealing foods that meet the health and nutrition needs of students.
Notice: The California Revenue and Taxation Code (RTC) Section 19854 requires local educational agencies (LEA) that operate the National School Lunch Program (NSLP) to annually notify households about the Earned Income Tax Credit (EITC) Information Act.